Welcome to your ultimate guide to kitesurfing in Copenhagen.

Can you kitesurf in Copenhagen? You certainly can!

Whether you're an experienced windsurfer or brand new to kitesurfing, you've come to the right place.

We've gathered everything you need to know to have the best experience on the water in the Danish capital.

In this guide we will cover the most popular kitesurfing spots in Copenhagen, effective techniques, as well as important safety rules and recommendations.
The Best Kitesurfing Spots in Copenhagen
Amager Strandpark: Located near the center of Copenhagen, Amager Strandpark is one of the most popular kitesurfing spots in the city. With its long, flat beach and good wind conditions, it is an ideal spot for both beginners and experienced kitesurfers. The park also has facilities such as changing rooms and toilets, making it even more attractive for kitesurfers. As well as very good parking facilities.

Sydvestpynten: Sydvestpynten is another great place to kitesurf in Copenhagen. This area is known for its scenic location, shallow water depths and good wind conditions from the west, making it perfect for kitesurfing.
Get started kitesurfing in Copenhagen with a beginner kitesurfing course. 
How to start kitesurfing as a beginner in Copenhagen
Take a course or a lesson: That's the absulute most important thing! Taking a course or lesson from a certified kitesurfing school in Copenhagen is a must. This will help you learn the basic skills, techniques and safety measures necessary to enjoy the sport safely and responsibly. Kitekollektivet in Copenhagen has several types of kitesurfing courses to help beginners get started with the sport.

Understand the conditions at a kitesurfing spot: As a beginner, it's important to practice in conditions suitable for your experience level. Flat water areas and stable wind conditions are ideal for beginners. The most popular kitesurfing spot in Copenhagen for beginners is Sydvestpynten.

Learn safety procedures: Before you start kitesurfing, it is important to learn the basic safety procedures and rules. This includes the proper use of safety equipment such as helmet, life jacket and kite leash, as well as how to deal with emergencies on the water.

Choose the right equipment: The first step to getting started with kitesurfing is to choose the right equipment. It is recommended to start with a smaller kite and a larger board, which will help you learn the basic skills faster and more safely. Visit Copenhagen Surfcenter in Copenhagen for advice and guidance on what is best for your size and weight.
Safety and rules for kitesurfing in Copenhagen: What you need to know
Safety is essential for a good kitesurfing experience. Here are some important safety rules and tips to be aware of when kitesurfing in Copenhagen:
Always wear safety equipment: When kitesurfing, always wear a helmet, life jacket and a kite leash. These measures are essential to protect yourself and other water sports enthusiasts.

Know and respect local rules: Each kitesurfing spot in Copenhagen has its own rules and guidelines. Make sure you learn these before you hit the water and respect other users of the area.
The spots have several unwritten rules (e.g. where beginners hang out) that are best learned by asking a local kitesurfer on the beach.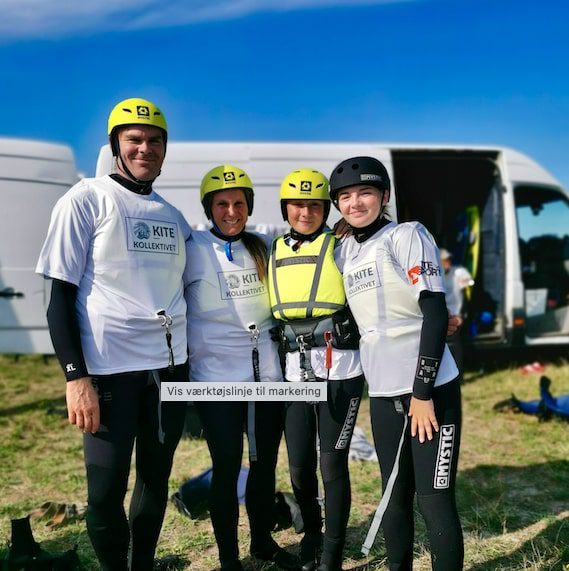 You can book a kitesurfing course in Copenhagen at Kitekollektivet, where you will learn everything you need to become an independent kitesurfer. 
Book your course here on this link