Feel the fresh air, water & togetherness
By kitesurfers, for kitesurfers
Become part of the community
With the Kitekollektivet you will never surf alone, as the Kitekollektivet is made up of passionate kitesurfers of all ages and all levels. 
Whether you're a beginner and need to book a course or an experienced kitesurfer with a desire to have a network of surfing appointments and safety support on the water on those cold winter days, the Kitekollektivet is for you.

The Kitekollektivet is already a great community and there is always room for more people who are ready to provide good energy, safety, security and good humor on the water. 
Become part of the community!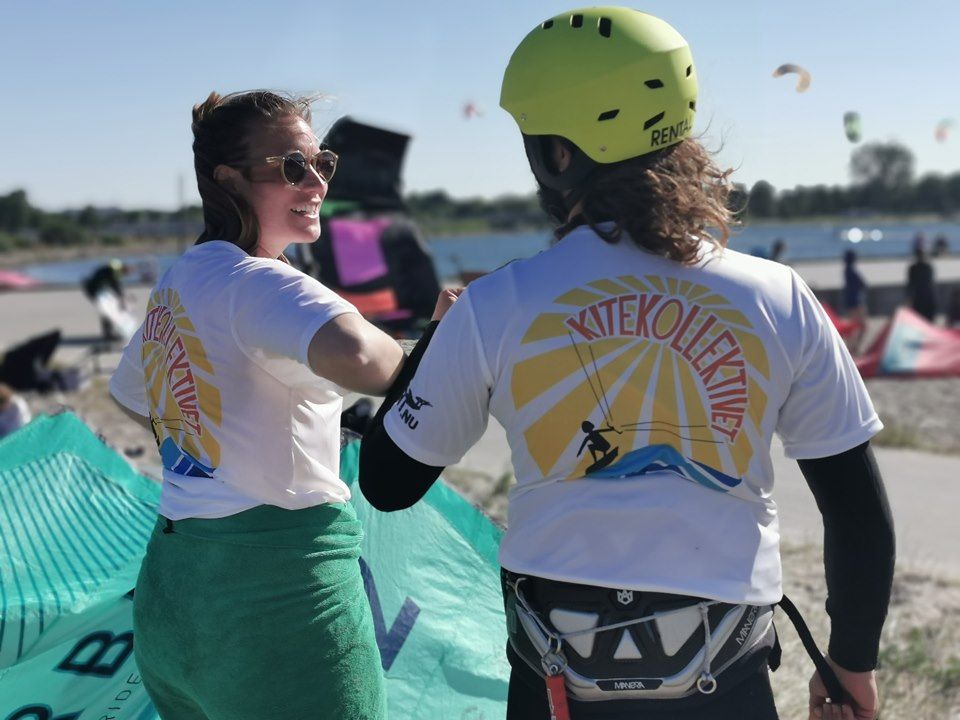 Book your next experience on the water
Book surf course
Beginner courses for everyone! 100% wind guarantee, all equipment included and experienced instructors from Dansk Sejlunion are ready to get you safely started with kite, SUP, wing foil or windsurfing. Book your course today.
Copenhagen Surf Center
At the surf center you can relax in our lounge, have a drink or eat in our café We have changing rooms, showers and toilets. The amarmino will take you right past us, Kalvebodvej 250, 2791 Dragør.
Buy surf equipment
Equipment is important and can be confusing. Kitekollektivet is ready with advice and to help you find the equipment that's right for you. Go hunting in our shop or click on our webshop our webshop, Kitesport.nu.
Our goal is to develop the framework for the strongest and most inclusive community for kitesurfers on the beaches around Zealand. Diversity, good vibes and atmosphere as well as the passion for kitesurfing are the foundation of Kitekollektivet.
The owners of the Kite Collective
Sebastian Kjærgaard
2022-11-08
Very nice and friendly instructors! Can only recommend this place 🙂
Morten Stovegaard
2022-11-07
Highly recommended! Everything is well organized and safe 👌
great experience, great instructor feeling all the time safe with the kite
Ubbo van zessen
2022-11-02
Very good service and high quality lessons!
Stine Schwennesen
2022-10-22
Book DK's best surf course here! If you're going surfing and looking for a course, use kitekollektivet. Call in and have a chat with them. They know exactly what you need and are very helpful. Or book it online if you're more experienced. Everyone is just so nice all the way around and always skilled and happy instructors. We had to be rebooked many times due to lack of wind and there was never any fuss about it, always nice and helpful people, again. And we were also offered a place closer to our residence than our summer house, as we were not in a summer house after the summer. Very flexible. I really recommend the kotek collective, book! You will not regret it. And good trip on the water.
Kamal Grossard-Amin
2022-10-16
Have had a beginner course with Kitekollektivet and have been super satisfied. Safety is emphasized and is top notch. Lynæs is a brilliant place for beginners, shallow and beautiful. The instructors skilled, experienced, attentive and proceeded at the right pace for me. Good dialog for booking the lessons.
Rasmus Wolffhechel
2022-10-09
It has been a pleasure to have been on a beginner kitesurf course over 3 times with Kitekollektivet - super good instructors and good communication when courses had to be moved when the wind was missing. Can only recommend it
Niels Lauritzen
2022-10-03
We have just been on a fantastic kite weekend with Kitekollektivet. 6 aspiring beginners who all had a super good experience - not everything was easy :-), but we were guided safely and well through. We will definitely come again and wonder if we are not all kiters this summer. Thank you for a well-executed intro. Can highly recommend Kitekollektivet
DO NOT GO!!! For the two following main reasons : 1. The instructor Lucas was impecient and not the most caring 2. There are airplanes flying all the time above your head which drives your attention and there are rocks in the water!!! * When I tried to contact the owner Alexander he did not reply
Great course with a very good teacher
In proud collaboration with